Testimonials & Reviews From Our Loyal Guests
If you have a review and would like to share it with us, please email us at vacationhana@gmail.com. Mahalo!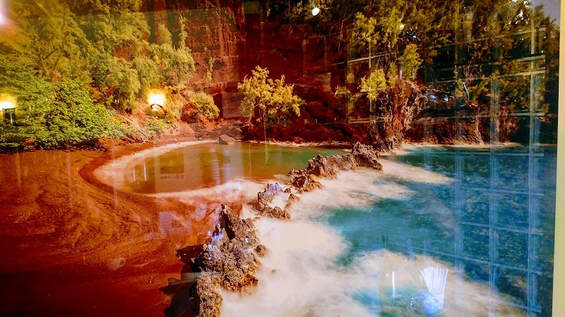 Had an absolutely fantastic time here went swimming and diving in the pool is that you recommended. We couldn't find any ripe fruit on the property but your neighbors had plenty to share which was nice.
The house is in very clean condition. Thank you again for the opportunity to stay here we absolutely loved it. And we wish you a very happy Thanksgiving.
- Glenn Maddox
---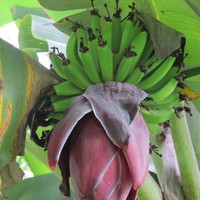 "We really enjoyed renting your home on June 10th & 11th! We absolutely loved going to the Venus Pools!! And we really enjoyed meeting your groundskeeper, Goto, and him cutting up some coconuts for us to try, and the bananas he gave us from the trees. My daughter also enjoyed collecting flowers that fell off of the trees to stick in her hair - beautiful grounds and flowers! Thank you again for entrusting us with your home!
- Valerie & Family

---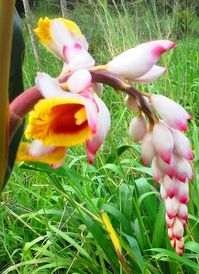 "Loving it! Goto is very interesting and informative. House is comfortable.
Did the coastal hike yesterday from Venus pools to hamoa beach. Beautiful!"
- Christina Dixon

---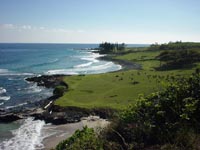 We enjoyed three wonderful nights here in August 2010. This place was perfect for two couples traveling with children. Plenty of room to spread out and the furnishings weren't SO nice that it wasn't a comfortable place to have the kids running around. Hot tub, hammock, and swings were great! Highly recommended.
- Locohorn Family, Seattle, Washington
---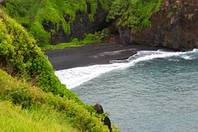 This home was on a beautiful huge lot right across from the coast. Only 2 miles past Hana. Great owner with attention to detail. Would stay here longer than 2 nights in the future!
-Jennifer M. Truckee, California
---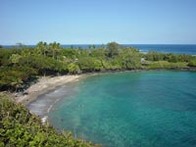 Anyone who found this place to be less than wonderful should stay in a Hyatt or Hilton if they don't want to stay in an Hawaiian home!!! This place is absolutely fabulous! it is a tropical jungle area of the island so of course there are bugs but none in the home that we found it was very clean, well kept and ready for our enjoyment! we have already called to try and book again next month and plan on using this as our home in Hana... The owner could not be more personable and accommodating. He was so excited to tell us the history and all about the area and spent a long time acclimating us to everything we should see and do. if you are here to really experience Hawaii and the beauty of this island this is the place to stay! thank you Lee we will be back!!!
-The Happy Alaskans
---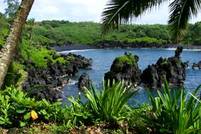 True memories come when you are in harmonic unity with yourself and the world around you. We found that at Hana Aloha Hale and gathered unforgettable moments from a unique harmony of time and nature.

The Hawaiian islands are doubtless a renowned place of exotic landscape, Maui one of the most attractive amongst those islands - and Heavenly Hana truly deserves its given name. Before we came to Maui we just looked for a nice cabin to stay in a more private atmosphere and to hopefully enjoy the island a bit away from the masses. After having been to Hana there is no other place on Maui to go! That is what we have told a lot of our friends. And in Hana, Hana Aloha Hale was the perfect place for us to stay. Our warm thanks go to Karin and Lee as very sensitive hosts giving you a personal feeling of being welcomed to Maui, providing help when in need (our son lost his glasses to the sea of Maui on the second day and we needed to find an optician...) and not least having realized that wonderful place.

Hana Aloha Hale is one of the most tasteful houses we have ever seen. Set in the middle of a wide and open tropical garden it offers a magnificent view at the sunrise over the sea in the morning, at the sparkling waves during the day and at the darkening blue of the water in the fading light of the evening. You must have sat at the open windows, having a cup of coffee or a glass of wine, reading and feeling the breeze floating through the house to know that there's probably no other place on Maui giving you that deep impression of Hawaii. You feel at home whenever you enter the spacious house, enjoying all the little details the house is decorated with, the wide open living room, the screened lanai, the comfortable bed rooms and the exclusive bath rooms. Where else can you stay with all windows open, listening to the sounds of the sea, waking up with the chirping of the awakening tropical birds in the morning, playing with your kids outside in the house's garden and while walking through the garden's lush vegetation picking up mangos, papayas and coconuts at your leisure and as your treat by nature.

Though tourist books about Maui are thick and provide you with a lot of recommendations about where to go and where to book, we left the Hana area just three times in two weeks. And that in complete unanimity with our two boys! After the time we spent at Hana Aloha Hale we are convinced that the Hana area is Maui at its best. When you want to enjoy the Hawaiian sea - go to Hamoa beach, one of the most esteemed beaches on Maui and the best surf for both kids and grown-ups. When you want to dive - go to the red sand beach, just around the hill behind Hana, share this secluded cove with a handful of people, go snorkeling inside or outside of this old cinder cone and enjoy the colorful submarine water world of Maui without dodging the flippers of a boatload of other people. When you want to hike - go to the Kipahulu valley, hike up along Pipiwai creek, pass through bamboo forests, and rest at the top at the magnificent Waimoku fall. When you want to plunge into freshwater - go and enjoy the pools at Ohe'o gulch, the Venus Pool in walking distance from Hana Aloha Hale or the Blue Pool right at the sea side. When you want to see... well, we could go on with Piilanu Heiau, Kahanu Gardens, Wai'anapanapa Park, Lindbergh's grave - but better you skim quickly through the pages of your Maui tourist book until you get to Hana and read by yourself.

We have been thinking so many times back to our wonderful time at Hana Aloha Hale - both we the parents as well as our two sons. What stays with us is that great feeling of having found a home on the Hawaiian islands. Thanks to Hana Aloha Hale, thanks to Karin and Lee.

Ortrun and Joerg, Jakob and Ludwig


---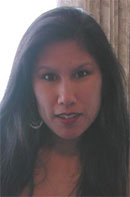 Hana Aloha Hale Hana Accommodations were even more beautiful and magical than I expected. The web site pictures don't do it justice,... but then, how can a mere camera capture the sounds of the wind in the palms, or crash of the waves and song of the birds. I suppose it's impossible to illustrate the soothing calm of the natural sunlight permeating throughout the peaceful rooms and gently filling the high ceilings. The camera lenses can only fit in so much information that the artistic touches in every room and stylish design must wait to be fully appreciated in person.

The only mistake that I made in staying at Hana Aloha Hale was that I only got to be in heaven for a mere two nights! On my next visit to Maui, I will certainly plan better. After Hana, I stayed in Kihei for a few days at my friend's condo,... that was very difficult to do after being on 2.5 lush, secluded acres in Hana! Thanks again for making your beautiful vacation home available to us mere mortals. I look forward to returning once again.



Mahalo, Vicki Victoria


---
If you have a review and would like to share it with us, please email us at vacationhana@gmail.com. Mahalo!