EXPERIENCE THE RAW BEAUTY OF MAUI IN THE SMALL, UNSPOILED TOWN OF HANA. RELAX IN LUXURY WHILE EXPLORING THE MOST BEAUTIFUL BEACHES & NATURE MAUI HAS TO OFFER. HANA ALOHA HALE IS THE ESCAPE OF A LIFETIME.
---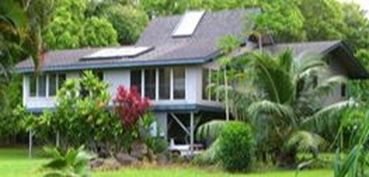 Our family is pleased to present our two and a half bedroom home on over two acres of private land with panoramic ocean views. The house is located between 40 acres of unoccupied oceanfront pasture and over 85 acres of tropical rain forest with views of Mt. Haleakala. Let this home be your haven, close to town and nature. All you need to find peace of mind.
---
---
---
---
From Kahului Airport, it is a winding 55 miles of one of the worlds most scenic drives. It takes about 1.5 – 2 hours driving time on Hana Highway. There are many incredibly beautiful spots, including waterfalls and lookout points to stop at along the way. Enjoy the drive and make sure to save extra time for stopping.

From Hana town (and Hasegawa General Store) it is three miles further in the direction of Kipahulu (South Continuing through Hana Town). If you come via the Hana Airport, the drive is only 5 miles, about 10 minutes, from the airport.

Hana Aloha Hale is on the right hand side of Hana Highway (towards Mt. Haleakala). There is a 360 ft. redwood fence fronting the property. The house number and name is on the fence. The house is located at 6820 Hana Highway.
Have Questions? Email us at vacationhana@gmail.com or call Lee at 808.575.2185. Mahalo!